Meet Lucy!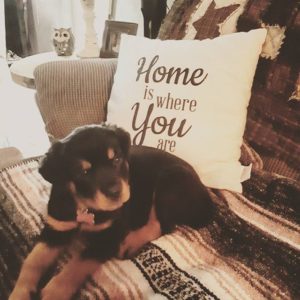 Lucy is 10 wks old and is going to the Mildmay Veterinary Clinic for his first visit with her new owner. This visit will be the start of a very important relationship in her life, the relationship between her and her Veterinarian. Along with vaccinating and deworming her owner will also receive important information to keep her healthy.
Scroll down to find out more about Lucy's visit to the vet!
After Lucy and her owner have checked in with reception, it's time to hop on the scale. We want the scale to be a fun and positive experience as most dogs are afraid to get on it!  Her weight will be recorded at each and every appointment in order to track her growth, as well as to let the Veterinarian know how much medication to dispense such as dewormer. Feel free to bring in your pup between visits to pop on the scale. It's great to keep track of growth as well as let you know how much dewormer to give if you don't trust your scale at home.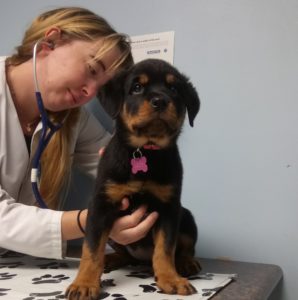 Next Lucy and her owner will go to an exam room. Here a Technician will discuss the many different health care topics such as parasite prevention, nutrition, and microchipping. They will ask you many questions in regards to house training, leash manners, and behavioral questions. This is a great time to ask any questions you have as well!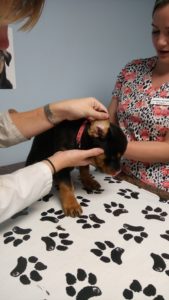 The Veterinarian then does a thorough exam on Lucy. She listens to her heart and lungs, checks her teeth, eyes, and ears. She also checks her temperature and conformation. The Vet wants to make sure Lucy is healthy before giving her vaccines.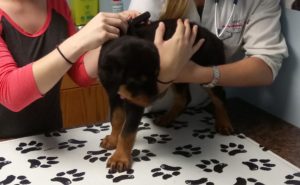 She passed his health check, now she can be vaccinated. Just a gentle poke! The technician will often offer a big hug to help keep the pet still as seen here. This is especially useful if your pet is a wiggler or a nipper. Distraction with treats from mom or dad is also appreciated while the vaccines are being administered.
Puppies nails grow quickly. We offer complimentary nail trims with our appointments. If you're wanting to trim the nails at home a technician can show you how as well as tricks and training on how to get your puppy used to have their feet touched and held. We also offer one free nail trim a month for our puppy patients until they are 1yr old.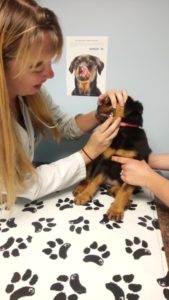 Getting her dewormer. We use a safe and great-tasting dewormer for our pups! We will send you home with the rest to continue the deworming process at home.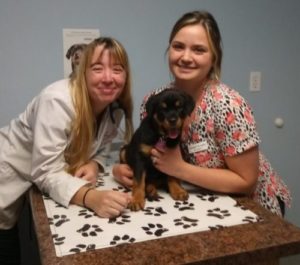 Now Lucy is on her way! She will come back to the clinic in 3-4 weeks time for her next round of needles. Her Vet wants to build up her immunity against various diseases and make sure she has the best protection possible! Our patients brighten our day as much as they do yours and we are always excited to see our patients at every wellness visit. We are very proud that you have chosen the Mildmay Veterinary Clinic to be your pets' medical experts!